Who is the Canadian Union of Public Employees?
The Canadian Union of Public Employees is Canada's largest union, with 700,000 members across the country. CUPE represents workers in health care, long-term care, emergency services, education, early learning and childcare, municipalities, social services, security, libraries, utilities, transportation, cannabis retail, airlines and more. We have 68 offices across the country, in every province. There are 5 CUPE offices in New Brunswick.
As a strong and democratic union, CUPE is committed to improving the quality of life for workers in Canada. CUPE is committed to Local Autonomy where workers democratically decide bargaining priorities and action. Women and men working together to form local unions built CUPE. They did so to have a stronger voice – a collective voice – in their workplace and in society.
What is a union?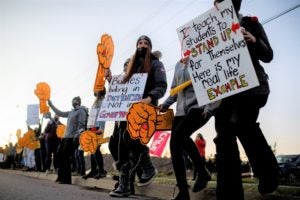 A union is an organization of workers who collectively use their strength to have a voice in their workplace. Having a union means having democracy at work. Without a union, decision-making is top-down and the employer has all the power. With a union, workers will have the power to negotiate with the employer as equals, work under a contract that helps guarantee our rights, and elect those who will help us represent ourselves.
What Is Collective Bargaining?
Negotiating and enforcing strong contracts – called Collective Agreements – for our members is what we do best. The solidarity of our members is the heart of our bargaining power and makes gains possible. CUPE Staff Representatives work with our locals to build strong communities and achieved better wages, benefits, pensions and fair treatment for workers across Canada.
What Is a Collective Agreement?
A collective agreement is a contract negotiated between union members and their employer. It outlines your wages, benefits and working conditions. It is signed by your employer and voted on by your CUPE local membership.
CUPE members decide what to propose to the employer. Your collective agreement can include provisions on wages, benefits, vacation and holidays, hours of work, protection from discrimination and harassment, sick time, overtime premiums, job protection, layoffs, and the right to union representation.

What kinds of workers does CUPE represent?
We represent all kinds of workers: full time, part-time, temporary, and casual. Whether you're just starting a new job, or you have decades of experience, CUPE offers services that help you get ahead.
CUPE advocates for workers who deliver services people depend on. Our members work in hospitals, schools, municipalities, and many other public sector and private sector workplaces. We help our members provide the highest level of service by ensuring they are safe and healthy at work, and that they get fair pay and benefits for the services they provide.
CUPE strives to reflect the diverse communities we work in. A diverse membership representing people of different racial backgrounds, Aboriginal people, women, LGBTQ2+ people, and people with disabilities is essential to keeping our union strong.
What are union dues?
Dues are funds that cover the cost of daily operations like an office, a website, a local newsletter, and other expenses. They can also cover the cost of members receiving union education and training or attending conventions.
While CUPE locals set their own dues rate, locals must collect a minimum of 0.85% of base wages in dues. Anything above this rate is decided by CUPE members at the local. The local must vote to decide how much their local will collect above the minimum, and how their local will spend the funds. Any amount above the minimum remains with your local union.
The minimum dues amount is sent to CUPE National and used primarily to hire staff who support locals in bargaining and enforcing collective agreements. These funds ensure all CUPE members have the resources they need to improve their working conditions and wages.
Union dues are one hundred per cent tax-deductible.
How is a union formed?
In New Brunswick, the process for organizing a union local in your workplace has five steps:
Workers contact the union and meet with a union organizer.
Workers sign cards applying for membership in the union, and authorizing the union to represent them in negotiations with their employer. New Brunswick labour law requires CUPE to collect $1 from each worker when they sign a membership card.
If between 40 per cent and 60 per cent of the workers sign membership cards, the New Brunswick Labour and Employment Board (NBLEB) may hold a vote to see if workers want a union. If more than 60% signed, Go to step 5.
The NBLEB holds a secret ballot vote. Anyone who is in the bargaining unit the union applied to represent can vote. If the majority of workers who cast ballots vote to unionize, the union is certified.
The union will serve notice to your employer to begin bargaining your first contract.
The NBLEB keeps information on those who signed union cards confidential. Employers never get to see the cards.
Can my employer take away any benefits in retaliation for forming a union?
No. Any form of retaliation is illegal. By law, an employer cannot take any benefits away from you when you vote to have a union. (See in particular section 3 of the NB Industrial Relations Act and section 7 of the NB Public Service Labour Relations Act) Everything we have right now is where we would start in negotiations.  The goal in negotiations will be to get improvements at work.
How do we bargain a contract?
Negotiations can begin as soon as our union is certified by the NB Labour and Employment Board, which usually takes about a week after a successful vote for forming a union. During contract negotiations, the union will elect a bargaining committee that will meet with representatives from the company to bargain over wages, benefits, working conditions, and other key issues. We will use conversations we have with our coworkers and information we receive from bargaining surveys to determine how we make improvements for workers in our union. When we reach an agreement on the key subjects of our contract with the employer, we then take the "tentative agreement" to the general membership for a ratification vote. If a majority of workers vote "Yes" to ratify the contract, the conditions put forth in the contract become effective immediately.